A man has received support online after sharing in a now viral post that he was taunted by his brother for crying when his son was born.
Posting to Reddit's 'Am I the A**hole' (AITA) forum under the username u/ad_saidhowitis, the man said he retaliated by calling out his brother's "touching" past. The post garnered over 10,000 upvotes and over 700 comments from Redditors who said the man's "toxic" sibling deserved to be confronted.
In his post, the man said that shortly after his son was born, he and his wife FaceTimed his mother so she could meet the baby.
"My wife was pointing the camera at me while I was holding it. I was sobbing the whole time. It made my wife and mom cry which made me even more emotional because I was so happy that our son finally be here." u/ad_saidhowiti wrote.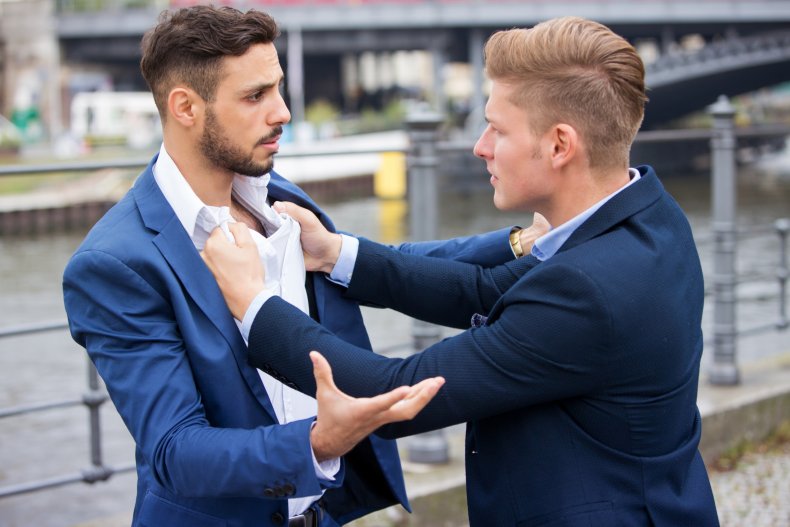 According to the Cleveland Clinic, humans cry for a myriad of psychological reasons, including to express grief, joy, or even rage.
"Crying for emotional reasons makes you feel better, releases tension, and gives you a psychic reboot," Michael Roizen, MD, told the clinic. "Remember, all tears are there for the greater good, so you absolutely don't need to hold them back."
However, u/ad_saidhowiti's brother doesn't think it's okay for men to cry.
"For some reason my brother pointed out how funny it was to him that I was crying. And yes, he's one of the [those] 'men don't cry' guys. We are used to it now. However, I didn't like him making fun of an important moment in my life like it was okay to cry. It was the birth of my son," u/ad_saidhowitis said. Sadly, it didn't end there.
"We were at my mother's [when] my son started crying because he was hungry. So my brother said, "Looks like he's his father's son then," u/ad_saidhowitis recalled. "I asked him what he meant by that, [and] he [said] it's because of me crying like a little dog."
Upset, u/ad_saidhowitis called out his brother for missing the birth of his own child, saying, "Better I cried like a b**ch than ran like a b**ch like you."
The comment upset his brother and their mother, prompting u/ad_saidhowiti to wonder if he had gone too far.
"AITA for reminding my brother that he wasn't there for the birth of his daughter when he was joking about my reaction to my son?" He asked.
But Redditors reassured the man that his brother deserved the shot.
"NTA [not the a**hole]. Your brother believes in some toxic nonsense of masculinity and is ignorant. He was hurt because he decided to be a bad guy AH [a**hole]. Too bad so sad," u/maaya_the_bee wrote.
"To be honest, he blamed himself. Play stupid games, win stupid prizes. It's totally normal for people to cry when their child is born. Your brother is an idiot" , said u/still_fallin.
"NTA," u/malachite001 added. "Good for you to have stood up to what is clearly a toxic brother."
Newsweek contacted u/ad_saidhowitis for comment.
Other IATA posters that have gone viral in recent weeks include a pregnant woman whose husband treated her like a 'valet', a woman whose husband took money from her disabled sister and a woman who delayed her husband's plans to return to work.